In this topic you will learn how to add a sign in form to a video.
The Sign In widget (commonly referred to as a "lead wall", "turnstile" or "gate") is a flexible, powerful tool that lets you track known viewers. It is commonly used to:
Generate leads
Have learners and trainees sign in
Add a gate to a video
Viewers will only have to sign in once, and we'll automatically remember them every time they watch a Brightcove Interactivity video on the same device.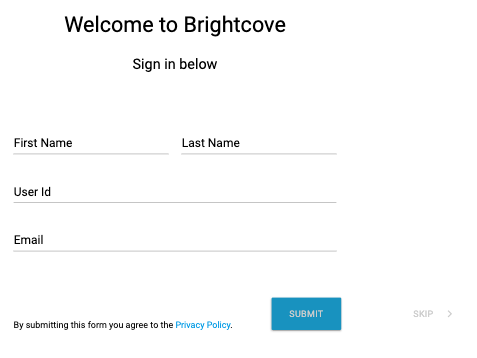 Adding a sign in annotation
Follow these steps to add a sign in annotation to a project:
Login to Video Cloud Studio.
Open the Interactivity module.
Click on a project Title to open it.
In the bottom toolbar, click on the widget icon.

Click the Sign In widget.

Click
. The configuration dialog will open.

Enter the text for the Title and Sub-Title.
Use the slider to determine which fields to display. It is also possible to add an additional, Custom Field.
First Name
Last Name
User Id
Email
Optional Custom Field
Click on the color options to select colors.
Background Color
Text Color
Button Background Color
Button Text Color
Configure the options.
Skip - Hide or show the skip button on the sign in form
Gated - When set to Active, the video will pause and wait and the viewer can't skip ahead using the seek bar
Privacy Policy - Hide or show the privacy policy URL
Privacy Policy URL - Enter the URL to the privacy policy
Click SAVE.
Viewing sign in results
The User Summary report can be used to review the logins. To access the User Summary report, follow these steps:
Login to Video Cloud Studio.
Open the Analytics module.
In the left navigation, locate the Interactivity section and click Core Reports.
Select a Date Range for the report.
Use the report selector to select the User Summary report.
Click
.
The report will display a summary of logins.