In this topic, you will learn how to add chapters to a video.
Introduction
The Interactivity module provides the ability to add chapters to videos. Chapters make it easier for viewers to go to a specific point in a video. This is especially helpful for longer form videos. Rather than scrubbing through the video, the chapter menu can be used to jump to a specific point in the video. There are two elements needed to add chapters:
Bookmarks - Identify specific times in the video
Chapter Menu - lists all of the bookmarks
Before you get started
Before you can add interactivity to a player, you need an Interactivity-enabled Brightcove Player and you need to make sure an Interactivity project has been created. For information on how to do this, see Getting Started with Video Interactivity.
Adding a chapter menu
To add a chapter menu, follow these steps:
Login to Video Cloud Studio.
Open the Interactivity module.
Create a new project or click on a project Title to open it.
In the bottom toolbar, click on the chapter menu icon.

To change the title of the Chapter Menu, click on it. If the chapter title is deleted, a hamburger menu will be displayed.

Click Done.
There are several annotation options available that control the appearance of the chapter menu. Click Edit > More... to expand the menu.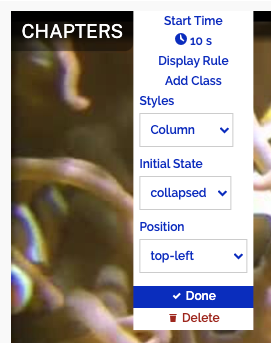 Styles
The Styles setting controls how the chapter menu displays
Fullscreen - The chapter list will fill the player

Column - Displays the chapters in a single column
Initial State
The Initial State setting controls how the chapter menu displays when it first appears:
expanded - Menu appears expanded
collapsed - Menu appears collapsed
Position
The Position setting controls the cardinal corner of the chapters menu:
top-left
top-right
bottom-left
bottom-right
Adding chapters
To add a new chapters, follow these steps:
Play or scrub through the video. When you get to the point where a chapter needs to be added, click the chapter marker icon.

Enter a chapter name and press enter. The name will be shown to the viewer in the chapter menu.

Continue playing the video and add chapters at each major topic or section of the video.
Click the chapter menu and confirm that all chapters appear in the chapter menu.

Click
.
Click Preview. Confirm that when you click on a chapter, that part of the video plays.
Reviewing chapter data
The Chapter Summary in the Core reports can be used to view the number of views and clicks on chapters. For information, see the Core Reports Reference topic.